Our Students
Our students are the life-blood of Lowther Hall and wherever possible, we try to involve the girls in decisions about the School which are relevant to them. We have an active Student Council and create regular opportunities for the student voice to be heard.

Our student leadership positions are constructed to give girls genuine experience in making decisions and implementing programs and initiatives associated with their roles.

Read more about our student leadership development programs...
Some reflections from our students: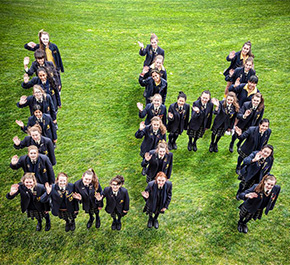 2017 School Captain, Anushi, reflects on aspects of her Lowther Hall experience:
Looking back over the past 5 years that I have spent at Lowther Hall, the emotion I feel most strongly is: grateful. Walking in through the gates every morning, I have felt comfortable in knowing that I am surrounded by a network of teachers and students that truly care about me and are continually willing to help me grow and learn. One of the many things that I love about Lowther is that whilst I am encouraged to always strive for excellence academically, I am also reminded everyday that it is just as important to develop strong skills in other facets of my life – and the countless opportunities that I am given to pursue my interests through the co-curricular activities that Lowther offers has certainly helped me to do so! Through my involvement in activities such as the Girls Sport Victoria program, Student Representative Council, school productions and Speech and Drama program, I have been able to nurture and develop my passions outside of the classroom, often in environments where I am able to spend time with girls and staff members that I do not otherwise get to work with, allowing me to have fun whilst making new connections. As well as this, through our Year 9 Humanities learning and Japan Exchange Program I have been lucky enough to travel to both Vietnam and Japan, both of which were experiences that I found invaluable and life changing. As I set off on my final year at Lowther, I feel privileged to be in an environment where I am encouraged to broaden my perspectives and take every opportunity that comes my way, so that I can leave the school as a well-equipped and well-rounded young adult who is able to make a positive difference in the world.
2017 Deputy School Captain, Grace, reflects:
Coming to Lowther in Year 8 without knowing anything about the school or any other student , I was understandably very anxious and nervous. But my worries quickly vanished when I met the many wonderful teachers and girls here at Lowther. Since then, I have involved myself in the many fantastic opportunities offered at this School. From GSV (Girls Sports Victoria), debating, TOM (Tournament of Minds), Student Representative Council, to almost every music ensemble program, I have given many things a try and ended up having the best years of my life. Through these experiences, I have been able to make friends with girls across different year levels and enjoy Senior School for everything it could be.
2017 Junior School Captain, Ava, sums up her Lowther Hall experience as follows:
My time at Lowther Hall is something I will remember forever. I have made so many amazing friends and connections with teachers over the past 7 years, and they have really helped me to develop my learning. Lowther Hall has given me so many great opportunities to encourage me to discover my passions and what I love to do. In Year 3, we started learning about public speaking and how to write and create speeches that captivate an audience. Ever since then, I have loved public speaking and talking to an audience about what I am passionate about. My favourite Lowther Hall Girl Quality is, 'she can work with others and take the lead'. I am planning to keep striving to achieve this quality and be the best leader I can be for 2017.
2017 Junior School Deputy Captain, Olivia, reflects:
I only began my Lowther Hall journey last year in Year 5, but I can easily say that it has been the best year of school I have ever had. When I first started at Lowther Hall I was pleasantly surprised at how welcoming and helpful all the girls were. I was so inspired by the leadership of the Junior School Captains last year that I wanted to follow in their footsteps. Thanks to the support from students and teachers, I was awarded the role of Deputy Junior School Captain for 2017. I hope to do my job as well as the previous Junior School Captains. One of the best things about Lowther Hall is that it offers many opportunities for after-school activities like Choir, musical productions and House sports. Last year I made it into the swimming team and competed at divisional level, well exceeding my expectations. I also loved working in a team to win House volleyball for Perry, even though I was new to the game. The highlight of the year for me would have to be taking part in last year's production, The Little Mermaid. I have a feeling that 2017 is going to be a great year!
2017 Junior School Deputy Captain, Elleni, reflects:
Now entering my final year of Junior School and 8th year of being a student at Lowther hall, I strive to develop many characteristics of a great leader and role model. Now that I have been assigned the role of Deputy Junior School Captain, I am able to put all of my Junior School years of experience into this role. I remember walking into Kindergarten with my backpack and lunchbox, passionate and ready to learn and have fun. As I grew older I noticed that there were girls that stood up at the front of the school at assembly to speak, and I had always looked up to them. It is now my turn to be a great role model and leader. I will do my best, and I hope I can inspire the younger students to become great leaders also.