Leadership Development
There are many opportunities for leadership at Lowther Hall, both informally through cross age programs such as the Prep and Year 5 buddy program and various House based activities, and through formal positions of leadership such as captaincies and Prefect positions.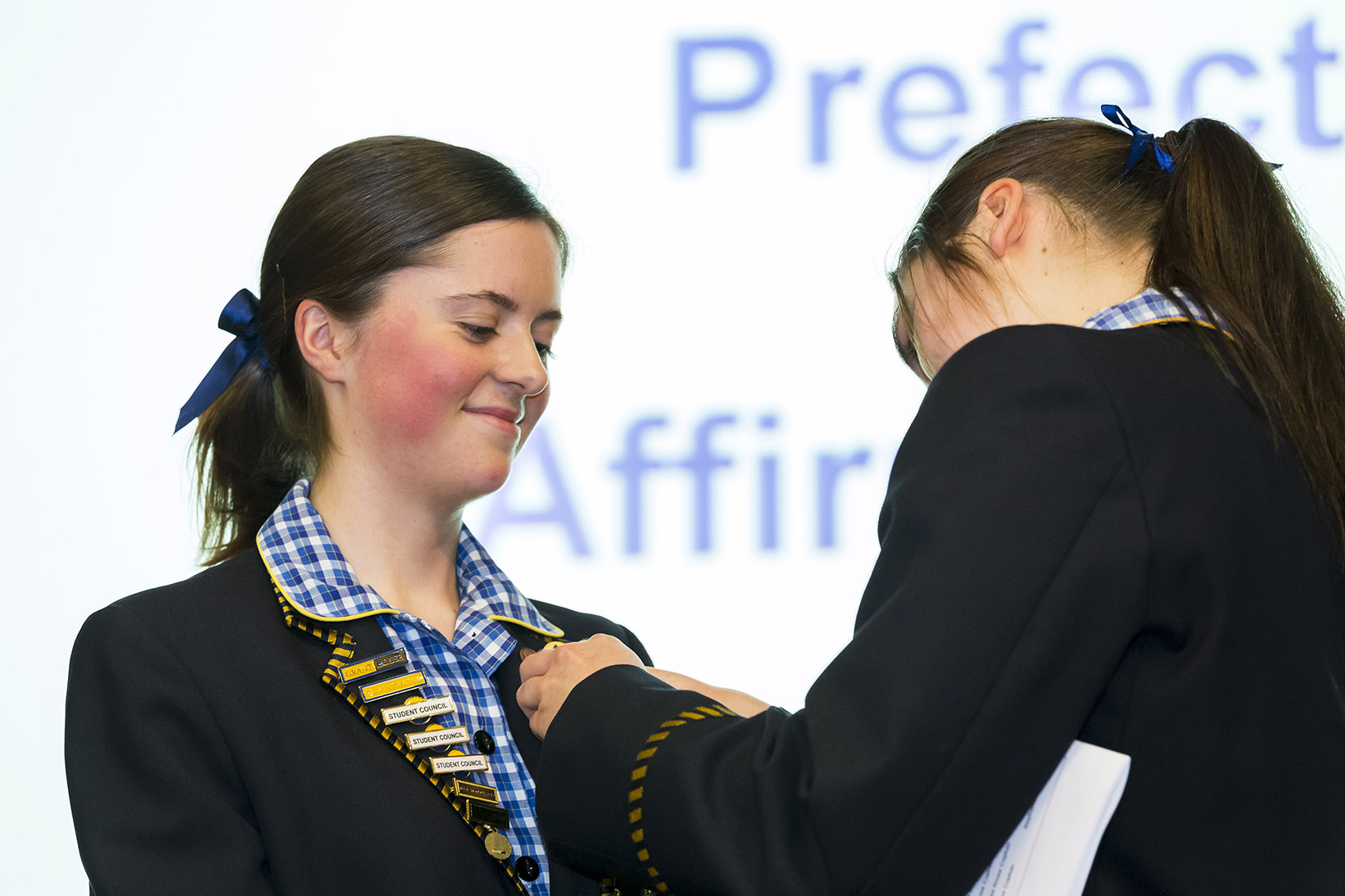 ---
Altogether there are [82] formally recognised leadership positions across the whole school, with each leader commissioned at a formal ceremony in which they pledge to serve the School to the best of their ability.
Through our focus on developing the 12 Qualities of the Lowther Hall Girl, by the time our students leave school each one of them is able to "work with others and take the lead".
Prefects
The prefect body includes the School Captain, Deputy School Captain, six House Captains, the Social Justice Prefect and the Faith and Worship Prefect.
As well as being role models for every student in the School, prefects – who are all Year 12 students – take on significant roles such as managing the Student Representative Council, coordinating wide-ranging House activities, chairing the Social Justice Committee and running weekly chapel services. They are also responsible for assisting all Senior School students to develop the 12 Qualities of the Lowther Hall Girl.
Prefects are elected via a democratic process that involves the entire Senior School community.
Student Representative Council (SRC)
Lowther Hall's Senior School SRC has been voted Best SRC in Victoria for the past three years in a row! Our SRC is genuinely empowered and the views and voices of students are taken seriously via this forum. Through their involvement, students on the SRC learn how to create proposals, argue their case and achieve outcomes that benefit students.
The Senior School Student Council is led by the Deputy School Captain. Here are some reflections from her about this important part of our School:
The Student Council provides us with the ability to have our voices heard within the School, a privilege which not only amplifies our belief in our capacity to shape our world, but also one which provides us with a sense of empowerment, confidence and independence.
Through involvement in the Student Council, we learn the importance of working together as a team, embracing an attitude which responds to feedback in a way that is respectful, yet objective; assisting us to be prepared for the world beyond Lowther Hall.
Captains and Co-Curricular Leaders
Many Year 12 students take on a captaincy role in an area of interest or expertise. These include Sports Captains (one for each sport), Music Captains (one for each choir/ensemble), Debating Captain, Tournament of Minds Captain, Mansion Messenger Captain, Chronicle Captain, Formula 1 Captain, Learning Resource Centre Captain as well as a number of Faculty Captains (eg Maths Captain). These captains support the prefects in coordinating events and acting as role models to younger students. Captains are selected by staff, following a thorough process that involves nomination, application and interview.
House Leaders
As well as a House Captain, each House has a Deputy House Captain and an Assistant Deputy House Captain. Together, these House leaders work as a team to coordinate House events including the Swimming Competition, Athletics Competition and the Performing Arts Competition.
Year 11 Leadership
Year 11 students have the opportunity to serve as House Leaders. In this role, Year 11 students are responsible for supporting and guiding the Years 7, 8 and 9 girls in their House. Year 11 House Leaders act as a point of contact for the younger girls and assist them to participate fully in the life of their House.
Junior School Student Council (JSSC)
This group includes representatives from each class (Year 1 – Year 6) who are elected by their peers for a period of one semester. They contribute to the life of Junior School by meeting regularly to discuss issues of interest to students and assisting with events such as the annual Junior School Fete.
Year 6 Leaders
All Year 6 students take on a position of leadership. Roles are matched to each student's individual area of interest and include House Captains, Chapel Captains, Music Captains, Assembly Captains, Library Captains, Environment Captains, Special Events Captains, Welcoming Captains, JSSC Captains and Art Captains as well as School Captain and Deputy School Captain.
Year 6 students attend a leadership camp to help them identify and develop leadership skills.