Year 9 Camp
Students begin the Duke of Edinburgh's Award Scheme (D of E) in Year 9 and all girls participate in two outdoor expeditions as part of this program. The D of E program is recognised internationally as one that empowers young people to explore their potential.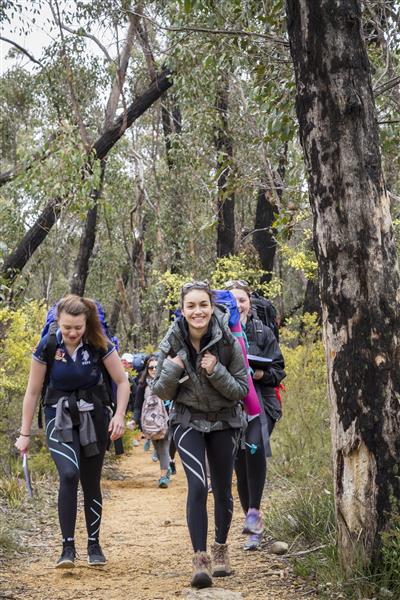 View a gallery of the 2015 Duke of Edinburgh Bronze Adventurous Journey.
View a gallery of images from the 2015 Vietnam Fieldtrip.

Through their Humanities program, Year 9 students also participate in a field trip to either Vietnam or Central Australia, where they expand their intercultural understanding and explore issues around tourism and food sustainability.
View a gallery of images from the 2015 Central Australia Fieldtrip.
Student Reflections
Central Australia
No picture, video or postcard can accurately express the size of Uluru. You see it in a photo and think, "Well yes, that's a very big rock" but in reality, you are in awe of how tremendously huge it actually is, and how small you actually are, and as you get closer to it, it only gets bigger and you only get smaller and smaller; it was incredible to visit.
Travelling the distance and through the vast scrub land of dirt and open air, really puts the trip into perspective of how far away you are from home and where you'll be living for next few days, especially sleeping in a tent at night! This experience (and also the long bus trip) was quite a challenge at times, but it gave us a chance to connect with nature and with each other. And although no one wants to admit it, the lack of WIFI was helpful, it taught us to look up and see the greatness that is around us.
The trip gave girls the chance to make strong friendships with others they might not usually talk to in class, but now, are very close friends with. In the end when we arrived back home, we all realised how magnificent and life changing the trip was.
(Jenna Hatzigeorgiou Year 9 2015)
Vietnam
The 2015 Our Place Fieldtrip to Vietnam is best described in one word, unforgettable. During this trip, not only did the girls learn about the intriguing Vietnamese culture through the food and people, but also about themselves because, for many, it was their first time travelling overseas without family members. This forced many girls to take responsibility for all their belongings and become independent travellers. Everyone was able to take something away from this trip along with many memories of our time together. From the emotions felt at the Cho Lon Orphanage as we donated gifts to the children, to the many 'wows' expressed as we travelled through Ha Long Bay; every girl has made her own special memories, not to forget the daily heat waves we battled!
Our time at the Lifestart Foundation helped us to realize what a huge difference donating nine electric bikes has made to some disadvantaged Vietnamese families. We thank all those in the Lowther Hall community whose generous contributions have enabled us to donate these bikes.
As we travelled from Ho Chi Minh, through Danang, Hoi An, Hanoi up to Ha Long Bay, we observed the influences of France, the USA and China on Vietnamese culture. We learnt a lot about their cuisine through our cooking class at KOTO Training Centre, and about the Vietnamese War by visiting the Cu Chi Tunnels and the War Remnants Museum. We also witnessed different biomes and eco-tourism by visiting the Mekong Delta, Ha Long Bay and Cuc Phuong National Park. Overall, it was admirable to see how we formed our own little family taking care of each other in this foreign environment. As we helped each other with our Fieldwork Journals and encouraged each other to try new experiences, we strengthened friendships and made new connections throughout the twelve days of travelling in the country of Vietnam.
(Ella Caulfield and Georgia Pearson Year 9)